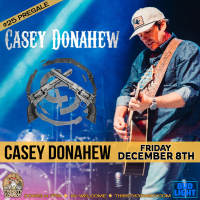 CASEY DONAHEW
Time: 9:30pm Day: Friday Doors: 7:00pm Ages: 18+ Ages Price: $25 - $30

Texas based singer-songwriter Casey Donahew brings his Red Dirt music to Thirsty Cowboy on Friday, December 8th.  Tickets are $25/Advance and $30/Day of Show (pending availability) and are on sale starting Saturday, October 28th at 10am at ThirstyCowboy.com.
General Admission | Limited Seating | 18+ Welcome!
Doors at 7pm
Opening Act (TBA) at 9pm
Casey Donahew at 10pm
CASEY DONAHEW

If you build it, they will come. This might be the mantra of one of the greatest baseball movies of all time, "Field of Dreams," but it's also a pretty accurate description of the career of Texas music sensation Casey Donahew.
The Burleson native, (with the help of his wife Melinda,) has painstakingly carved out an impressive niche for himself on the country music scene over the past 18 years, attracting a solid base of loyal fans who flock to his legendary live shows. Building his career from the ground up one show at a time, he's managed to perform on countless stages night after night in front of thousands, topped the Texas music charts 20 times, released all of his albums independently to critical acclaim, and forged a path all his own through the music scene without the aid or muscle of a major record label or power-suit management company.
Though he seems like a born natural when it comes to performing, Casey fell into music gradually. He grew up on a farm the first few years of his life and quickly grew to love riding and team roping, a sport he still enjoys today. His grandfather, who loved to play and sing, gave Casey his first guitar growing up, but it wasn't until college at Texas A&M that he first began to teach himself to play and really focused on writing songs. A big fan of 80's and 90's country, Casey had always admired the storytelling in the songs of that period, and when a wild-eyed Oklahoma boy named Garth Brooks began swinging from the rafters and employing all sorts of crazy, rock show antics during his concerts, Casey was immediately hooked.
"I've just always liked the country songs from the 80's," says Casey. "It seems like a time when there was a lot of great songwriting going on, and I just enjoy people who can tell a story with a song. And I've always been a big Garth Brooks fan, since the beginning. First there was George Strait, and then here came this guy from Oklahoma, Garth Brooks. And you'd see George standing there playing guitar, but then Garth comes along running all over the stage, playing guitar and singing all these songs that he wrote. And the thing I was always most enamored with about Garth was that he wrote most of those songs. He was just one of those guys who did it all. And he started in Stillwater, not too far from the Red Dirt scene. You could really take a lot of Garth Brooks songs and put 'em on a record of mine, and I think it would fit right in."
It was during his college days that Casey also discovered another rowdy artist who was forging his own path across the Lonestar state in a big way, Pat Green. When his fraternity hired Pat to play one of their parties back in those early days, Casey was instantly inspired by Pat's way with a song and his ability to connect with an audience. "Pat Green was really the guy who started it all for me in college. He just did a great job connecting with fans, and later on when we started playing, we really tried to mirror how he did that. He was one of those guys who I thought was a great entertainer, and really told stories that people wanted to hear and could relate to, and I think that's what made him so popular."
Transferring to the University of Texas/Arlington, Casey began traveling around with his girlfriend/future wife Melinda to catch shows by Pat, Randy Rogers, Cross Canadian Ragweed, and other acts who were bubbling up just above the surface on the burgeoning Texas music scene at the time. And it wasn't long before he was testing the waters himself, playing a regular acoustic gig at Fort Worth bar the Thirsty Armadillo, trying out the songs he'd been writing since high school.
"I had moved back and was going to UTA, and just started following some of those guys around," he recalls. "We'd go see guys like Randy play at the Thirsty Armadillo when he was just starting out and the scene was just barely beginning to go anywhere out here. Pat was selling Billy Bob's out, and we'd go see him, and Ragweed was just starting to break in that timeframe too.
I had also discovered Matchbox 20 during that time, and I don't know what it was exactly, maybe the timing of that first CD when it came out it, but that whole record just speaks to me. It's one of those records I still listen to...something about the way he writes songs translates to the way I felt in life at the time, and it still does. And that's something you try to capture and recreate and hopefully through your writing you help people through hard times or get people through situations in life. I don't know if there was ever a specific point where I said, 'Hey I'm gonna do this for a living,' but I just enjoyed writing songs and playing. It was a way to get my feet wet -- and I learned a lot playing at the Armadillo. And it was a way into the industry and to see how other people did it, and we learned a lot of stuff in those first couple of years."
Within a few years Casey had conquered the small club circuit and was packing out larger places like the Fort Worth Horseman's Club. He released his first independent CD, "Lost Days," (which included the autobiographical nod to his home turf, "Stockyards,") and the song quickly became a huge hit for the new band, even among fans who had never visited the Texas city. "Stockyards is one of those songs we started out with. I've been to a lot of places, and I've never been anywhere quite like the North side of Fort Worth. It's just one of those places…I grew up in all those bars, and there's such a history down there and it's something I think everyone can relate to. It's weird, it seems like we go far from Fort Worth and people still sing that song, it's one of those things people relate to -- everyone's got their own Stockyards if you will, their own place they grew up that they remember going to the bars and running the streets and getting into trouble, I guess."
Around this time, with his wife Melinda spearheading management and booking for the band, Casey impressed the owners of Billy Bob's enough to land a gig playing the legendary club where he'd attended so many shows as a fan himself. Within two years of his first show there, Casey was drawing nearly 4000 eager fans, and he's never looked back since.
In 2006 he released a second self-titled CD that included "White Trash Story," a raucous, redneck story tune that instantly became a fan favorite. He followed that up with a live CD recorded at Bostock's, (the
Stephenville bar that gave Casey one of his first big breaks), then returned to the studio in 2009 to make, "Moving On," a project described as "rattling, rolling and rumbling like a youthful Robert Earl Keen fronting Reckless Kelly. That project sold an impressive 32,000 copies thanks to his growing legion of fans, as word spread like wildfire among the college crowd about this underground indie sensation. The fans have always been foremost on Casey's mind as he built his career, and he makes his music with them in mind. For Casey, it's never been about accolades, or awards, or even major label attention or fawning. It's simply about the music. And his fans recognize and appreciate that. Taking a page from the live performance playbook of one of his heroes, Pat Green, Casey fuses genuine, honest lyrics with a contagious, take-no-prisoners energy onstage, making sure everyone is along for the ride -- which, more often than not, is a wild one.
"I think we definitely make music for our fans…we don't worry about much else except making the fans happy and making ourselves happy, and we've been real lucky and fortunate in that I think we came along and started this band at a time when social media was really kind of starting to get some legs. And that really made it possible for a band that really didn't have a lot of radio support to thrive and succeed…you know we were able to keep people interested and with social media they were able to share it with their friends in such a fast way that it really spread the music to a large group of people quicker than it could have ever before."
Over the last 20 years, Casey has racked up 23 #1 singles, and become a national headliner, playing coast-to-coast and selling out venues across the country. Donahew has over 165 MILLION on-demand digital music streams, and over 500 MILLION streams on Pandora.
Donahew has released ten independent albums to critical and commercial acclaim. Donahew's "Standoff," quickly topped the iTunes Country Chart at #1, and his follow-up 2016 album "All Night Party", hit #3 on the Billboard Top Country Albums Chart, and #13 on the Top Album Sales Chart and Top Current Album Sales Charts. In 2017, a 15th anniversary record titled, "15 Years, The Wild Ride", was released. The collection featured updated recordings of Donahew's most popular songs from the first part of his career, as well as a recording of Matchbox 20's 3AM, a song Casey played for years live before finally recording the classic hit.
On March 29, 2019, Casey announced his 9th studio album, "One Light Town". Released on July 26, 2019, and produced again by Josh Leo, "One Light Town" features 15 new songs, 7 of which were released to fans when the album was announced. The album features songs written by Casey as well as writers including Tim Nichols, David Lee Murphy, Brad Tursi, Matt Ramey & Trevor Rosen, Jeff Hyde, Jon Randall Rodney Clawson and Wynn Varble.
And though his dream may soon grow much, much larger than a double wide, and reach heights even he couldn't have imagined, Casey is quite content with all he's accomplished thus far in this little career that could. "I don't see anyone coming to make a deal where we're gonna change what we do. I'm not sure
how far we have left to go, hopefully forever, but you know nothing lasts forever, so I'm always mindful of that and prepared that one day this ride could be over. And I'm pretty proud of everything we've accomplished. I hope there's more, but if it were over tomorrow, I could look at my wife and say I was really proud of everything we've accomplished. I'm really excited about this record. I think the songs on here are great, and are a big step forward, and the fans, whatever their expectations are, I hope we blow em away!"
Casey Donahew's latest single "Telling on My Heart," finished 2022 by taking the #2 spot on the True Indie Singles chart as the most played song on Country Music Radio by an independent artist.
Donahew's home town of Fort Worth, recently declared October 22nd as the official "Casey Donahew Day" in FORT WORTH highlighting Donahew's musical success and philanthropic achievements in the DFW area. The city recognized his longtime fan-favorite single, "The Stockyards" as the official song of the Fort Worth Stockyards.