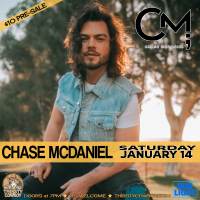 CHASE McDANIEL
Time: 10:00pm Day: Saturday Doors: 7:00pm Ages: 18+ Ages Price: $10
This Event Has Ended
Chase McDaniel returns to Thirsty Cowboy on Saturday, January 14th. Tickets are $10 and on sale on Friday, November 25 at 10am. Limited Seating available.
18+ Welcome | Doors at 7pm | Chase McDaniel at 10pm
Chase McDaniel
Chase McDaniel was raised by grandparents in the small town of Greensburg, Kentucky with traditional family values and old school country music. He was taught to bet on himself and that, paired with his rich baritone voice. All of that comes together as his latest song debuts #1 on the Billboard and iTunes country single charts and #4 all genres chart, an unprecedented feat for an independent artist.
Having some tough times early on, the music of George Jones, Johnny Cash, and Conway Twitty, and family who loved singing gospel, resonated with Chase developed a bit of an old soul when it comes to music. He started performing doing covers of Johnny Cash and started developing his own voice too.
Like many other musicians, he eventually made his way to Nashville. But with the pandemic and out of work, he was down to his last $12 and ready to pack up and head home when a friend loaned him money to stay a couple more weeks. Luck struck as one of the 50 restaurants he sent applications to offered him a job. He gave this shot everything he had — working double shifts, sleeping as little as four hours a night and writing and recording with his producer and best friend Jerry Jacobs every other minute of the day. After two years, he was able to quit his job and focus on music full-time.
What he's developed — the sound, work ethic, and more are all uniquely his own as Chase is a true independent artist. He released his first song, "Relapse", and has garnered over 4 million on demand streams and his current single, "Project", also released without industry hype on May 27, debuted at #1 on the iTunes country chart and #4 all genres as well as #1 on the Billboard Country Digital song sales, #4 Billboard all genre chart, and #46 on the Hot Country Songs chart. Project" has over 5 million on demand streams in just the first 3 weeks.
It's clear that Chase McDaniel blends old and new to deliver something incredibly unique and listeners can't get enough of it!