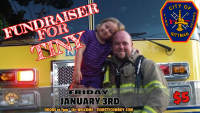 Mike Riding: Fundraiser
Come out and help one of our own.
Time: 7:00pm Day: Friday Ages: 18+ Ages Price: $5

Mike Riding (A.K.A. Tiny) and his family neep our help. Mike has been a regular fixture onthe country music sceen in NE Ohio for over 20 years as well as being a rittman firefighter. We are proud to say he has worked at Thirsty Cowboy as both a bouncer and a bartender, he has also worked at former country venues The Boot and Sadle Ridge. Mike is a devoted husband and father to 2 beautiful girls as well as a member of Rittman Fire & Rescue for over 15 years. Mike was recently diagnosed with an uncommon bacterial infection in his blood which has created an abscess in his lower spine and causing extreme pain leaving him with very limited mobility. Mike has not been able to work for the last couple months due to hospitalization and recovery. That's were we can all chip in and Help.
Thirsty Cowboy is hosting a fundraiser. $5 cover will straight to the family. There will also be 50/50 drawings, raffle baskets and many ways to help.
If you can not attend you can still help buy buying a ticket. Even you dont show, the ticket charge will still go the family.