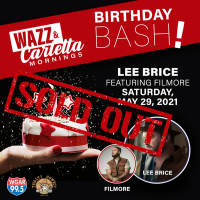 99.5 WGAR
LEE BRICE W. SPECIAL GUEST FILMORE
JOIN US FOR AN ACOUSTIC SHOW WITH THESE TWO FANTASTIC ARTISTS
Wazz and Carletta Birthday Bash
Time: 8:30pm Day: Saturday Doors: 7:00pm Ages: 21+ Ages Price: $5 - $57

LEE BRICE & FILMORE TAKE OUR STAGE FOR OUR FIRST CONCERT IN OVER A YEAR. THIS WILL BE AN ACOUSTIC SHOW WITH SOCIALLY DISTANCED TABLES AND CHAIRS AND RESERVED SEATING. ALL COVID REGULATIONS MUST BE FOLLOWED.

TICKETS WILL BE SOLD IN TABLES OR SECTIONS OR VARIOUS SIZE GROUPS 2,4,6, & 8 SEATS. YOU MUST PURCHASE THE ENTIRE TABLE OR SECTION.

-Thirsty Cowboy wait staff will wear face coverings when serving the patrons at their seated locations.

-Masks are required when guests are not seated at their group table.

COVID-19, has been declared a worldwide pandemic and is extremely contagious. There is a high risk of exposure to COVID-19 in any place where people gather. COVID-19 can lead to severe illness, loss, disability and death. You assume all risks, hazards, and dangers arising from or relating in any way to the risk of contracting a communicable disease or illness including, without limitation, exposure to COVID-19 or any other variant, bacteria, virus, or other pathogen capable of causing a communicable disease or illness, whether that exposure occurs before, during, or after the event, and regardless of how caused or contracted and you hereby waive any and all claims and potential claims against iHeartMedia, Inc., Thirsty Cowboy, Big Kid LLC, Event Producer, Event Sponsors, Artists and Event Venue and their respective parents, subsidiaries, affiliates, agents and employees relating to such risks, hazards, and dangers. By continuing with your purchase, you agree to assume full liability for any risks incurred before, during and after the event and agree to comply with CDC guidance and any additional COVID-19 Safety Requirements for Event.

**You also agree to follow the event mask protocol which includes wearing a mask at all times inside the venue, except when you are seated at your reserved location.